raleigh, nc:
919-280-3488
richmond, va
804-380-2348
Featured Playset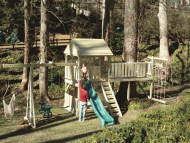 This is a really great design with loads of cool features. Installed on difficult slope and partially around a 38" oak tree, this playset is a 6x6, with a three position swingbeam, steps, 10' wave slide, lower area partially enclosed and with a floor, and of course the 6x10 deck. Really fun making and installing this one.
Contact us about this playset.
Call us at 919-280-3488 or 804-380-2348
OR leave us your question or comment below, and we'll give you a quick reply.